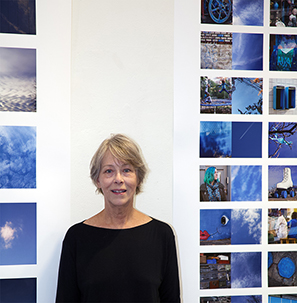 This series was inspired by themes of unity and inter-connectedness. The Argentinian poet, Antonio Porchia said, "If you do not raise your eyes, you will think you are the highest point." The question then becomes how to see from a higher place that we cannot reach except through intention, imagination or reflection.
For this series, two photographs were taken at the same time at the same location – one, of a selected scene or subject and another of the sky above it. The combination of viewpoints is intended to expand perception where the viewer is invited to become a third element in an imagined and sensed, multi-dimensional, spatial triangulation — to be present and open to a dynamic that mirrors the intention of the Bluecoup Project.
---
One's destination is never a place but rather a new way of looking at things.
― Henry Miller
---

"Bluecoup" group exhibition

The Americana Blues series exhibited in April, 2018 at Artspace Gallery in Richmond VA as part of an invitational group exhibition I curated to raise awareness of the Bluecoup project.

Artists' works (L to R) Amie Oliver, Paul Terrell, Therese Brown, Susan Singer, Robert Walz, Lew Lott, Jere Kittle, Megan Mattox. Photo by Therese Brown.



"S'ghetti din", mixed media on wood panel by Joe Olney. "Blue Skies" encaustic monotypes by Susanne Arnold.
"Inside Story"
multi-media group installation
Inside Story explores the idea that we wear our individual identities like garments to show the world who we are; at least on the outside.

Dana Frostick, Jere Kittle and Patrick Gregory converted a bathroom-sized gallery space into a...a bathroom. The space was outfitted with a clawfoot tub and a video by Patrick Gregory projected on the shower curtain. Nine artists created bathrobes that hung on pegs inviting visitors to try them on. Each robe is unique. Yet beneath the robes we wear, whether terrycloth or seersucker, cotton or polyester, or cotton/polyester blend, we are at our essence the same, and we are one.

Robes modeled by the artists:
Rob Ryder
Jere Kittle
Alice Anne Ellis
Ron Lee
Heidi Field-Alvarez
Dana Frostick
Not shown:
Martin McFadden
Tara Morand
Samuel Vaughn



Shower curtain video by Patrick Gregory